Im Namen Gottes, des Erbarmers, des Gnädigen
Gold- und Silbermünzen aus den Anfänger der Umayyaden-Dynastie (41 bis 132 n.H. / 662 bis 750 n. Chr.)
a) ES GIBT KEINE GOTTHEIT AUSSER GOTT, EINZIG UND OHNE PARTNER
Mohammed ist der Gesandte Gottes, der mit der Rechtleitung und der wahren Religion entsandt wurde, um sie über die gesamte Religion hervor zu heben
b) GOTT DER EINZIGE. GOTT, DER UNVERGÄNGLICHE. WEDER GEBAR ER NOCH WURDE ER GEBOREN (von Sura: 112)
Im Namen Gottes. Dieser Dinar wurde im Jahre 77 geprägt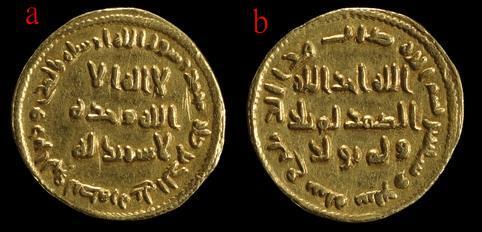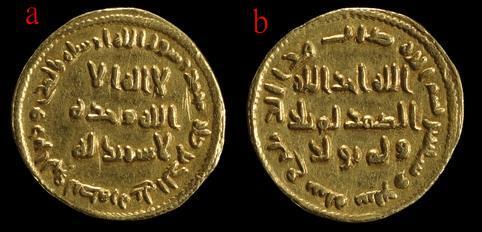 Ein Silber-Dirham geprägt vor Ende der Ummayyaden-Dynastie 126 n.H. Gleiche Texte wie oben nur mit kufischer Kalligrafie: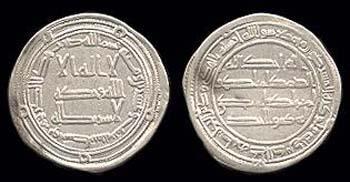 Silbermünzen aus der Abbasiden-Dynastie (132-656 n.H. / 749 – 1258 n.Chr.)
(132-656 AH/ 749-1258 AD)
Die Abbasiden änderten das Prägungssystem der Ummayadden, in dem sie die Verse von Sura 112 (Siehe oben) aus der Münze entfernten und die Phrase "Mohammed ist sein Gesandter" zu der Shahadah (Es gibt keine Got1it ausser Gott) zufügten.
Zitat aus "Qatar Museums Authority":
The Abbasides did not change the Ommayad coinage system during the early years of their dynasty except the addition of certain religious phrases. They struck the words "Mohammad is the prophet of Allah" to replace Surat Al-Ikhlas. At the time of the Khalifah Haroon Al Rashid, major changes were introduced as they issued new gold coins, striking new sentences, phrases and names, starting during the reign of the Khalifat Al-Amin. At the time of the Khalifah Al-Ma'moun a new text was added that is "Allah is the supreme ruler before and after and the faithful will rejoice at the victory given by Allah". The names of the cities where the coins were minted were also mentioned on the Dinars.
Salam